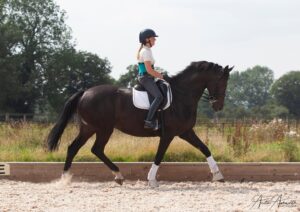 It's that time of year again when people set goals, go on diets, give up alcohol and then forget it all as the year progresses. It is so easy to be fired up with enthusiasm at the start of the year and gradually 'real life' impacts your plans and you get bogged down in it all.
So what to do? Is it worth it? 
Currently I am in a process of re-setting. Realistically we have no idea what will happen in the next couple of months so I have re-jigged the training plans for the horses and also the app!!
The focus now goes on sorting out a few training issues ready for PSG/Inter 1 with Denver and Elena, thinking about which level I am going to do a freestyle at and helping my mum get riding fit ready for para competitions. 
Elena and I are working on the canter. She has developed so much in the trot and we now have a collected trot and more variation in the medium and extended paces but the canter seems to have gone back a step. So lots of strengthening work for the canter, heaps of transitions within the pace and travers, shoulder in work. Then the canter pirouettes have been picked apart as I had no control in a full pirouette. Lastly the pesky sometimes late change from right to left is undergoing work, most of that seems related to straightness and also her relaxation and thoroughness. Fingers crossed we are getting more consistent. 
I have 'pivoted' as they say in business and I am now entering more online dressage competitions. I found the online experience really ups your game at home. As you have to get a willing volunteer to do the videoing which means I cant be out there for an hour riding the test through numerous times I have to get the horses on the aids and going like they would for a normal competition. The judge feedback is always so helpful and so far absolutely spot on!!
App wise we are updating a few of the versions as new tests have come out or slight revisions have been made. There are also the 2021 rule books to put in ready for when we all get going again. There are loads of other little and not so little projects on their way but I don't like to say too much until we are ready!!
So I have not set goals as such I prefer to call them outline plans, bit more fluid and dynamic than a fixed goal. What do you think?
Either way I hope you are all managing to keep putting one foot in front of the other, spring is on the way and before you know it the children will be back in school and we will be competing and training again! Lets keep supporting each other and enjoying our horses. Hopefully we will meet soon.